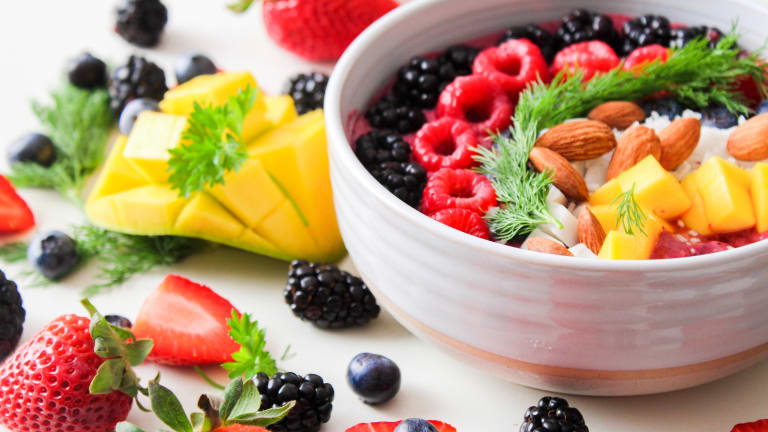 Which Diet Decreases Inflammation in Ankylosing Spondylitis?
by Dr. David Borenstein M.D. updated 10/21​
Almost on an hourly basis, I am asked when I am in my office which is the best diet to decrease inflammation. Is it the keto diet, gluten-free diet, the avoidance of night shade plants, or the food from the Mediterranean region that will help decrease my joint disease? Up to this point there were very few studies that showed any benefit of a specific diet that helped decrease the activity of inflammatory spinal disease. That changed with an Italian report that studied the effect of the Mediterranean diet on inflammation associated with AS over a 6-month period.1
A total of 161 patients were divided into a group of 81 receiving nutritional advice and group of 80 controls. AS patients were on their usual therapy to which could include disease modifying drugs as well as biologic agents. Each group was in a low disease activity state at the start of this study. The diet of the study group was reviewed and dietary modifications were suggested. Daily caloric intake consisted of carbohydrates 55% fats 20-30% and proteins 10-15% including adequate amounts of fiberup to 20 g a day and 2 L of water. Consumption of vegetables fruits, sugar free cereals, and olive oil were suggested at every meal with consumption of low-fat dairy products, nuts, and a modest amount of wine were allowed. In regard to protein weekly consumption, fish and white meat (in the form of chicken) and legumes was suggested. Less red meat, eggs and potatoes along with a decrease in salt were suggested. Only rare consumption of a pastry, sweets and soft drinks were allowed. In addition, regular physical activity was encouraged. Every 2 months the nutritionist asked the patient about their intake and recall of the dietary modifications that were suggested at the beginning of the trial. The control group ate their usual diet and did not get any nutritional advice. Study results at outcome were related to an improvement in adherence to the Mediterranean diet as well as an improvement in a sign of inflammation including the C reactive protein index. A positive outcome was associated with a 20% improvement in dietary adherence as well as decrease in the CRP index.
Of the 81 and 80 patients who started in the study, 47 of the nutrition patients completed trial at 6 months and 63 in the control group. No significant difference in characteristics emerged between the groups at the start of the study. A significant difference was observed in the CRP change which improved more in the nutrition (a decrease of -0.1) compared to an the increase of 0.2 in the control group. A significant difference was observed with regular physical activity as reported by the Nutrition group compared to controls at month 6. No significant weight change was noted in either group. In regard to change in diet, the nutrition group ate 4 fruits per day, 10 more servings of fish, and 13 of white versus red meat during a week. Olive oil was also the main culinary fat and a greater use of the nuts per week was recorded in the nutrition group.
Older patients and those with a lower BMI were more prone to modify their diet after nutritional advice. About 1/3 of the patient has dropped out of the nutrition group but this was related to isolation protocols during the COVID-19 Emergency in Italy in 2020. Adherence to the Mediterranean emerges as of for the most significant predictor of improved disease activity resulting in a 7 fold increased likelihood of improving CRP.
The better control of inflammation in AS may be attributed to specific Mediterranean diet nutrients. Patient's increased consumption of olive oil and nuts which contain oleic acid and other an 3 polyunsaturated fats may add to this benefit. Fish oils are associated with improved disease activity scores particularly in rheumatoid arthritis. All of these factors may decrease the production of inflammatory cytokines and auto antibodies.
Now when asked about nutrition, I can reference a study that reports the benefits of a diet including fruits, vegetables, nuts, olive oil, chicken and fish along with exercise. If one wants to use the term Mediterranean diet to describe this combination, I am all for it.
References:
1. Ornetto F et al: Mediterranean diet in axial spondyloarthritis: an observational study in an Italian monocentric cohort. Arthritis Research & Therapy https://doi.org/10.1186/s13075-021-02000-0
David Borenstein, MD
Executive Editor TheSpineCommunity.com