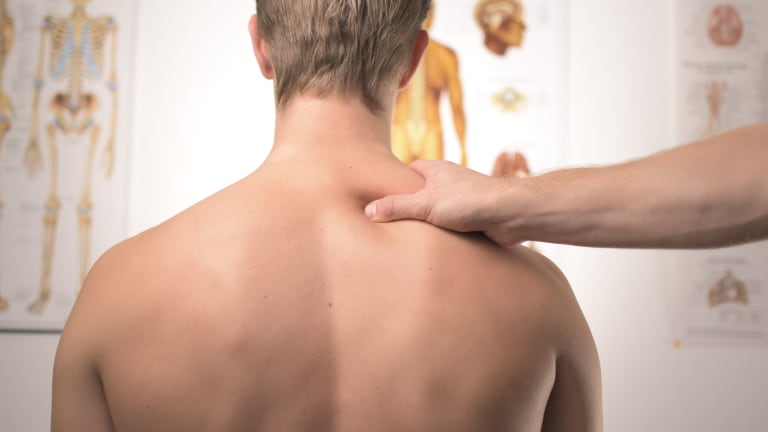 Under Diagnosis of Inflammatory Arthritis of The Spine - Ankylosing Spondylitis
Recent research confirms the under diagnosis of treatable inflammatory back pain by primary care physicians.
by David Borenstein M.D. 9/20
Medically reviewed by Dr. C.H. Weaver M.D. 8/21
At the 18th Annual SPARTAN meeting for clinicians and researchers who care for patients with spondyloarthritis. Dr. Steven Vlad of Tufts University presented results of a study evaluating the awareness of primary care physicians of ankylosing spondylitis (AS). The study confirms a significant under diagnosis of this treatable case of chronic back pain.
Inflammatory arthritis of the spine, in all its various forms including AS, is an important health issue in the USA. Recent USA population studies report a 1.4% incidence of spondyloarthritis suggesting that over 4 million individuals have these disorders. Diagnosing spondyloarthritis early in the course of the illness has the potential for preventing spinal fusion and hip joint destruction that results in permanent disability. Early treatment is effective in preventing the usual progression to joint destruction and reduced survival. Unfortunately delayed and under diagnosis is common.
The goal of the current study was to determine if lack of awareness of inflammatory back pain symptoms contributes to delayed diagnosis among primary care physicians. Researchers reviewed data from primary care physician's patient charts who had evaluated individuals who were between 18 to 45 years of age and were seen on at least 2 occasions over a 3 month period over 18 months for evaluation of back pain.
A total of 239 patients were evaluated with 55 % having features of inflammatory back pain. Gradual onset was found in 52%, most commonly. Of 239 patients, only 5 (3.9%) were given a diagnosis of AS AT THEIR INITIAL EVALUATION. Consideration for a rheumatology consultation occurred with 8 or 3.3% of patients. THE REMAINDER OF THE 117 PATIENTS WITH INFLAMMATORY BACK SYMPTOMS ARE AWAITING EVALUATION TO DETERMINE IF THEY HAVE AS. This study shows that many primary care physicians do not recognize the basic findings of spondyloarthritis, thereby delaying diagnosis and the initiation of appropriate therapy.
Under diagnosis and delays in receiving appropriate medical care have important consequences to individuals impacted by AS that could be prevented with earlier diagnosis and appropriate treatment. The reasons contributing to the delay and under diagnosis are multifactorial and have to with societal perceptions of back pain, a plethora of healthcare providers that "treat" back pain with minimal experience with AS patients, and a poor patient understanding of what type of specialist is most appropriate to see if someone has symptoms of AS.
TheSpineCommunity and theArthritisConnection are fully moderated digital social networks and resource centers that provide educational programming and peer-to-peer support for individuals with back pain and inflammatory spondylitis and arthritis. The Spine Communities focus is on individuals with undiagnosed or poorly managed back pain and theRAConnection supports individuals with Ankylosing Spondylitis and other inflammatory conditions of the spine.