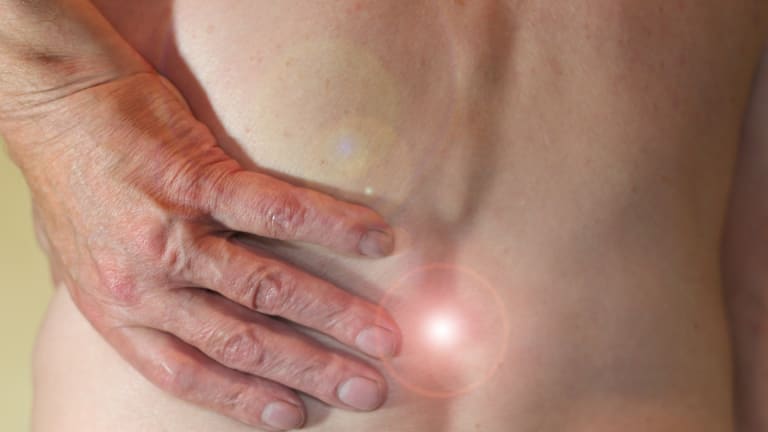 Sacroiliac joint pain is not always sacroiliitis (SI)
Experiencing Sacroiliac joint pain doesn't necessarily mean you suffer from Sacroiliitis (SI)
by Dr. David Borenstein M.D. Medically Reviewed by Dr. C.H. Weaver M.D. Updated 4/2022
Sacroiliac joints are the connection between the lumbar spine and the sacrum. Ankylosing spondylitis is an inflammatory arthritis that starts with low back pain associated with inflammatory changes seen on magnetic resonance imaging (MRI) of the sacroiliac joints. A number of other disorders are associated with SI joint pain in patients who are suspected of having SI.
A group of radiologists reviewed the SI MRI examinations of 1421 patients suspected of SI.1 SI was present in 535 of 1421 patients (37.6%). In 886 of the patients whose MRI studies were negative for SI, other causes for lower backpain were identified in 386 (43.5%). The most common musculoskeletal finding was lumbosacral transitional vertebra, a developmental disorder [77 patients (8.6%)]. Piriformis syndrome, a muscle disorder that can cause leg pain (sciatica), was seen in 38 patients (4.2%). Disc degeneration (spondylosis) was noted in 3.7% (33 patients). A sign of osteoporosis, sacral insufficiency fractures was highlighted in 16 patients (1.8%).
Non-musculoskeletal findings were also seen on MRI scans of the sacroiliac joints. Follicular ovarian cysts were identified in 15.3% (136 patients). Uterine fibroids were present in 54 patients (4.9%). Endometriosis, that can cause intermittent monthly pain was seen in 4 patients (<1%).
This study points out the fact that not all pain in the sacroiliac region of the back is associated with inflammation of the sacroiliac joints. Most individuals will not have abnormalities. However, a significant minority will show abnormalities that may be a cause of back pain in this region.
References:
Kaya HE et al. Frequency of potential causes of lower back pain and incidental findings in patients with suspected sacroiliitis: retrospective analysis of 886 patients with negative sacroiliac MRI examination for sacroiliitis. Acta Radiologica : October 1,2020 doi.10.1177/0284185120968565