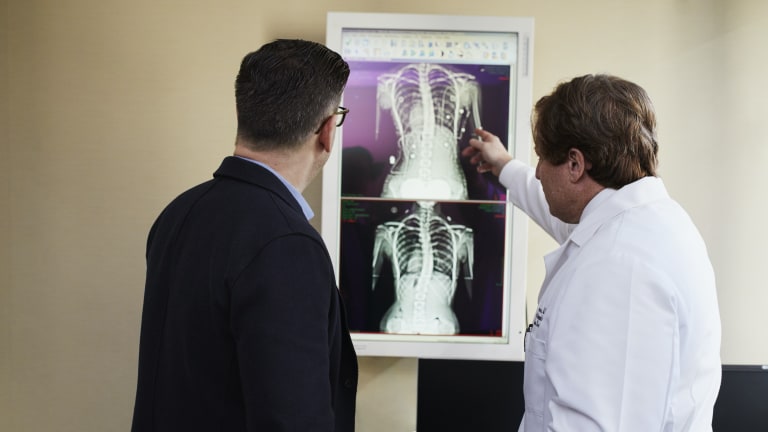 Looking for a Back Pain Expert?
Directory of doctors dedicated to evaluating - treating back pain with a major focus on inflammatory non-mechanical pain
by Dr. C.H. Weaver M.D. 02/2022
Rheumatologists care for people who may have disease in almost every organ system in the body. Many of these doctors develop an expertise with a group of disorders that cause illness in specific areas of the body. The spine is affected by over 60 different illnesses. Having a physician who is aware of those disorders, particularly with inflammatory illnesses, makes the process of getting a correct diagnosis and treatment plan correct from the beginning much more likely.
Rheumatologists who are spine specialists are the physicians who are most likely to have the knowledge to facilitate the path for improvement in individuals who suffer with spine problems. Primary inflammation of the spine - Ankylosing Spondylitis and Rheumatoid conditions that effect the spine and are often overlooked by other doctors who treat back pain. The Spine Community is frequently asked how an individual can find a Rheumatologist that specializes in the spine so we have compiled a list below. Many other specialists treat back pain from a number of causes and you can learn more here.
Rheumatologist Specializing in Inflammatory Conditions of The Spine
Alabama
Anthony Turkiewicz, MD - Rheumatology Associates
Matthew Stoll, MD, PhD, MSCS - University of Alabama at Birmingham
California
David Yu, MD
James Louie, MD, MHS - UCLA
Lianne Gensler, MD - University of California, San Francisco
Maripat Corr, MD - UCSD
Michael Weisman, MD - Cedars-Sinai Medical Center
Thomas Learch, MD - Cedars-Sinai Medical Center
Siba Raychaudhuri, MD - VA Medical Center Sacramento/Univ. California, Davis
Colorado
Kristi Kuhn, MD, PhD - University of Colorado School of Medicine
Liron Caplan, MD, PhD
Florida
Gurjit Kaeley, MD - University of Florida College of Medicine, JAX
Idaho
W. Patrick Knibbe, MD - St. Luke's Rheumatology
Louisiana
Abraham Gedalia, MD - LSU Health Sciences Center and Children's Hospital
Maryland
James Witter, MD, PhD, FACR - NIH
Maureen Dubreuil, MD - Boston University Medical Center
Michael Ward, MD - NIH/NIAMHS
Robert Colbert, MD, PhD - NIH/NIAMHS
Grant Louie, MD - Arthritis and Rheumatism Associates
John Flynn, MD - John Hopkins
Massachusetts
Ellen Gravallese, MD - Brigham and Women's Hospital
Joerg Ermann, MD - Brigham and Women's Hospital
Jeffrey Katz - Brigham and Women's Hospital
Jonathan Kay, MD - University of Massachusetts Medical School
Joseph Merola, MD, MMSc - Brigham and Women's Hospital Harvard Medical School
Mississippi
Vikas Majithia, MD - University of Mississippi Medical Center
Nebraska
Abhijeet Danve, MBBS, MD, FACP - University of Nebraska
New Mexico
Hillary Norton, MD - Santa Fe Rheumatology
New York
Prashant Kaushik, MD - Stratton VAMC
Runsheng Wang, MD - Columbia University Medical Center
Sergio Schwartzman, MD - The Hospital for Special Surgery
Ohio
Elaine Husni, MD, MPH - Cleveland Clinic Foundation
Marina Magrey, MD - Case Western Reserve University at MetroHealth Medical Center
Mazen Elyan, MD - Case Western Reserve University at MetroHealth Medical Center
Muhammad Asim Khan, MD - Case Western Reserve University at MetroHealth Medical Center
Oregon
Atul Deodhar, MD, MRCP - Oregon Health & Science University
James Rosenbaum, MD - Oregon Health & Sciences University, Casey Eye Institute
Pennsylvania
Alexis Ogdie, MD, MSCE - University of Pennsylvania
John Richards, MD - Veterans Affairs Medical Center
Lan Chen, MD, PhD - University of Pennsylvania
Pamela Weiss, MD, MSCE - Children's Hospital of Philadelphia
South Carolina
Robert Warren, MD, PhD, MPH - Medical University South Carolina
Texas
Andreas Reimold, MD - University of Texas Southwestern Medical Center
Jack Cush, MD - Baylor Health Care
John Reveille, MD - University of Texas Houston Medical School
Laura Diekman - University of Texas Health Science Center
Xiaodong Zhou, MD - University of Texas Medical School at Houston
Utah
Daniel Clegg, MD - University of Utah
Jessie Walsh, MD - University of Utah
Washington
Gary Craig, MD - Arthritis Northwest
Philip Mease, MD - Seattle Rheumatology Associates
Washington DC
David Borenstein, MD, MACP, MACR - Arthritis & Rheumatism Associates
Gail Kerr, MD - VA Medical Center
Wisconsin
Judith Smith, MD, PhD - University of Wisconsin-Madison
Canada
Dafna Gladman, MD, FRCPC - University Health Network, Toronto Western Hospital
Dax Rumsey, MD, MSc, FRCP - University of Alberta
Jonathan Chan , MD - University of British Columbia
Lihi Eder, MD,PhD - Women's Research Institute
Nigil Haroon, MD, PhD,DM - University of Toronto
Robert Inman, MD - Toronto Western Hospital
Robert Lambert, MB BCh, FRCR, FRCPC - University of Alberta
Sherry Rohekar, MD - University of Western Ontario
Sibel Aydin, MD - University of Ottawa, Faculty of Medicine; The Ottawa Hospital Research Institute
Vinod Chandran, MBBS, MD, DM, PhD - University of Toronto, Department of Medicine, Division of Rheumatology, Centre for Prognosis Studies in the Rheumatic Diseases
Walter Maksymowych, MD, FRCP, FACP - University of Alberta, Heritage Medical Research Centre
Mexico
Garcia-Valladares, MD - Centro de Estudios de Investigacion Basica y Clinica, SC (CEIBAC) Ignacio
Ruben Burgos-Vargas, MD - Hospital General de Mexico