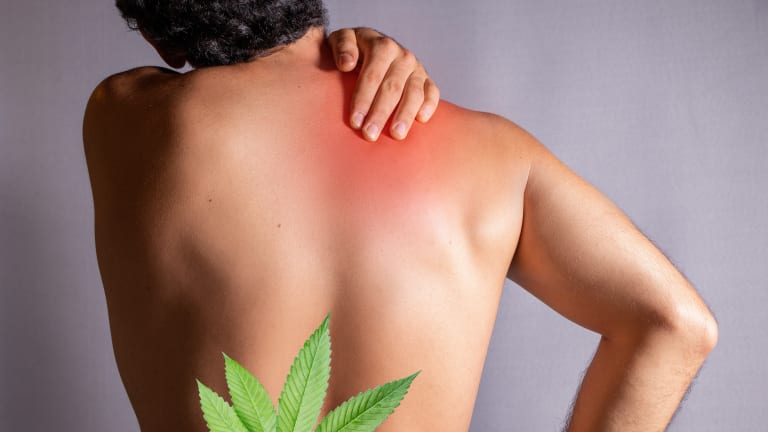 Cannabis and Low Back Pain
Is Cannabis effective as therapy for low back pain in an Aged Population?
by Dr. David Borenstein Medically Reviewed by Dr. C.H. Weaver 10/2021
Cannabis in its various forms is being used as a legal, prescribed therapy in an increasing number of states. The number of studies that investigated the efficacy of cannabis have been few. The issue for the practicing physician is whether cannabis is a reliable choice for decreasing low back pain in older patients who may be at risk of drug toxicities.
Senderovich and colleagues reviewed the available published articles on low back pain patients treated with cannabis and placebo in clinical trials and published the meta-analysis of these studies. The active ingredients (cannabinoids) in cannabis include tetrahydrocannabinol (THC), the psychoactive component, and cannabidiol (CBD) the component that stimulates the generation of beta-endorphin, endogenous pain relievers. Cannabinoids may be plant-based or synthetically manufactured (dronabinol, nabilone,nabiximols). Dose forms include pills. oils, and leaves that may be ingested or inhaled.
The meta-analysis examined the role of cannabis in LBP management, the difference in structure, mechanism of action, and efficacy of THC and CBD, the impact of existent routes of administration on the effectiveness of cannabis, and outcomes of cannabis utilization and its side effects while managing LBP. A total of 23 articles reported results of the effect of cannabinoids for the treatment of chronic low back pain.
Three of the studies showed beneficial properties of cannabis and cannabis derivatives on LBP. In one study, neuropathic pain was improved by 30% in the 38 week investigation. In another project, 30 subjects with chronic non-cancer pain had a significant improvement. In a 3rd study, nabilone decreased pain significantly compared to placebo. In other studies, CBD significantly reduced opioid use and improved chronic pain and sleep quality. In older populations, dronabinol offered pain relief in over 50% of participants with benefit in decreased nightmares and insomnia.
In general, negative side effects are more prominent with THC than CBD treatment. Some of the side effects include dizziness, nausea, dry mouth, and drowsiness.
At this time, initial studies suggest some benefit for low back pain with cannabis products but the number of studies is small particularly in individuals over 65 years of age. Studies suggest that THC derivatives are effective for the suppression, of acute, chronic, and neuropathic pain, while CBD may be better suited for control of anxiety and insomnia.
Until cannabis, in all its forms, is legalized by the Federal government, its utility as an effective therapy for low back pain will be limited. When legalization occurs, larger randomized, controlled trials will be completed, and the full benefit of cannabis in its medicinal forms can be determined.
References:
Senderovich H et al. The effectiveness of cannabis and cannabis derivatives in treating lower back pain in the aged population: A systematic review. Gerontology DOI 10.1159/000518269 2021
Busse JW et al.Medical cannabis or cannabinoids for chronic pain: a clinical practice guideline. BMJ 2021;374:n2040