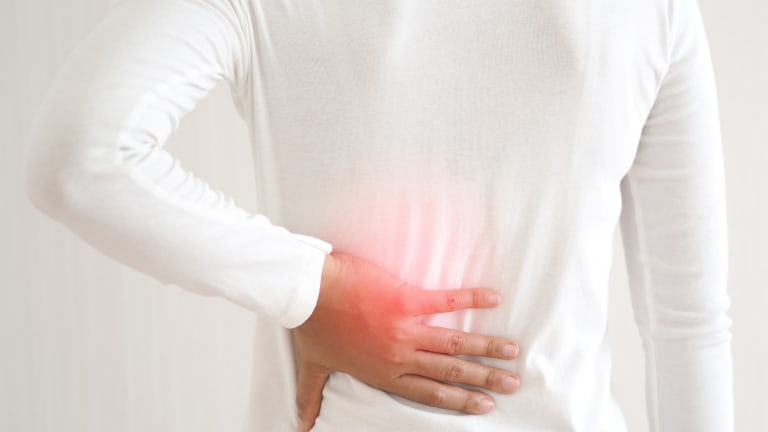 Acute Anterior Uveitis (AAU) & Chronic Low Back Pain
Acute Anterior Uveitis (AAU) and Chronic low back pain (CBP) EQUAL Ankylosing Spondylitis (AS)
by Dr. David Borenstein, Medically Reviewed by Dr. C.H. Weaver M.D. 7/2022
Acute anterior uveitis is a painful, inflammation of the iris (uveal tract) of the eye. The pupil of the eye is made larger and smaller by the change in shape of the iris. When light shines into the eye, the iris contracts to make the pupil smaller to focus the light on the retina. Making the iris contract when it is inflamed is a very painful process. Individuals with AAU go to the eye doctor because of this eye condition to receive therapy (frequently steroid eye drops) to control the inflammation. Many individuals with AAU also have chronic LBP. That combination of complaints suggest those individuals have another illness, AS. Ankylosing spondylitis (AS) is an inflammatory spinal disease which is associated with damage to the axial skeleton including the sacroiliac joints, the lumbar, thoracic, and cervical spine. The progression of the illness results in fusion and calcification of the ligaments surrounding the spine.
Attempting to estimate the proportion of new AS diagnoses could be made in patients with AAU and chronic LBP, 5 ophthalmology centers in Amsterdam, Holland referred patients to rheumatologists to investigate the diagnosis of AS. The referral criteria for referral were at least 1 episode of AAU, and chronic LBP of at least 3 months duration with patient age of less than 45 years. Individuals were questioned about duration of symptoms, physical signs of AS, radiographic and laboratory evaluations. Clinical diagnosis by the rheumatologists were definite AS, suspicion of AS, or no AS.
Over approximately 3 years period, 81 patients (41 men, median age 41 years) were referred. A total of 23 % had definite AS, 40% suspicion of AS, and 37 % no AS. Of those 58% with recurring AAU, 87% had chronic LBP starting 10 years before the referral. Men were more likely to be affected.
The conclusion of this study is that individuals with AAU and back pain have a high likelihood of suffering from AS. Early referral to a rheumatologist to make a diagnosis of AS is appropriate.
References:
Van Bentum RE, et al. High prevalence of previously undiagnosed axial spondyloarthritis in patients referred with anterior uveitis and chronic low back pain – the SpEYE study.J Rheumatol. February 15, 2022.doi:10:3899/jrheum.210345