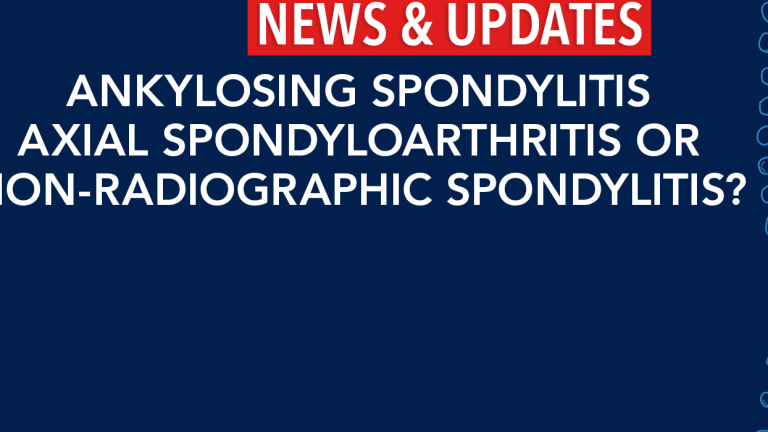 Clearing the Confusion:
Whats in a name? Axial Spondyloarthritis, Ankylosing Spondylitis and Non Radiographic Spondyloarthritis
Inflammatory spinal disease is a complicated issue for doctors and patients alike. A number of names are associated with a spectrum of clinical complaints including chronic low back, physical limitations including limited spine motion, laboratory findings associated with a genetic predisposition, and radiographic findings affecting some or all of the specific parts of the spine. Some of the names associated with inflammatory spinal disorders include axial spondyloarthritis, ankylosing spondylitis, and nonradiographic spondyloarthritis. Defining these groups can help lift some of the confusion that surrounds these illnesses.
Axial spondyloarthritis (axSpA) is the general designation used for disabling forms of inflammatory arthritis of the spine. axSpA includes disorders associated with chronic low back pain usually found in individuals younger than 45 years in age. Some of these patients in this group may also have articular damage in joints outside of the spine. axSpA may also have non-joint findings including eye inflammation (uveitis), skin rash (psoriasis), reaction to an infection (reactive arthritis) and gastrointestinal disorders (inflammatory bowel disease). Patients with axSpA which affect the spine primarily belong to two subtypes. These two subtypes are ankylosing spondylitis (AS) and nonradiographic spondyloarthritis (nr-axSpA).
Ankylosing spondylitis (AS) is an inflammatory spinal disease which is associated with varying degrees of spinal fusion. The diagnosis of AS is based upon the history, physical examination, and radiographic findings. Inflammatory back pain is characterized by the presence of back pain for longer than 3 months in association with an age of onset before 40 years, no improvement with rest, improvement with exercise, insidious onset, and increased pain at night. A finding for classic AS is the finding of specific findings on plain x-rays showing definite signs of sacroiliac joint damage. Laboratory findings of histocompatibility-B27 positivity, and blood test findings for inflammation (elevated C reactive protein or erythrocyte sedimentation rate) are compatible but no specific for a diagnosis of AS.
Nonradiographic spondyloarthritis (nr-axSpA) Not all patients who have axSpA have plain x-ray changes in the sacroiliac joints. These patients have clinical symptoms of inflammatory back pain and are HLA-B27 positive, but do not have definitive plain x-ray alterations in the sacroiliac joints. Magnetic resonance imaging of the sacroiliac joints is needed to identify the presence of inflammation in the form of bone marrow edema. These individuals do not meet criteria for AS but do have an inflammatory arthritis of the spine. These patients have non-radiographic spondyloarthritis. Questions remain regarding whether nr-SpA is AS in its earliest form but is a disease independent of AS. This question will be answered over time since these designations have only been defined since the advent of MRI. Longitudinal studies will need to be completed to know the answer to this question.
Causes of Inflammatory Back Pain
Keep Current With The Spine Community Newsletter
Connect With Others In The Spine Community To Share Information And Support
References:
Rudwaleit M et al: The challenge of diagnosis and classification in early ankylosing spondylitis: do we need new criteria? Arthritis Rheum. 2005:52(4) 1000 -1008
Wang R et al. Progression of nonradiographic axial spondyloarthritis to ankylosing spondylitis:A population-based cohort study. Arthritis Rheumatol 2016;68:1415-1421