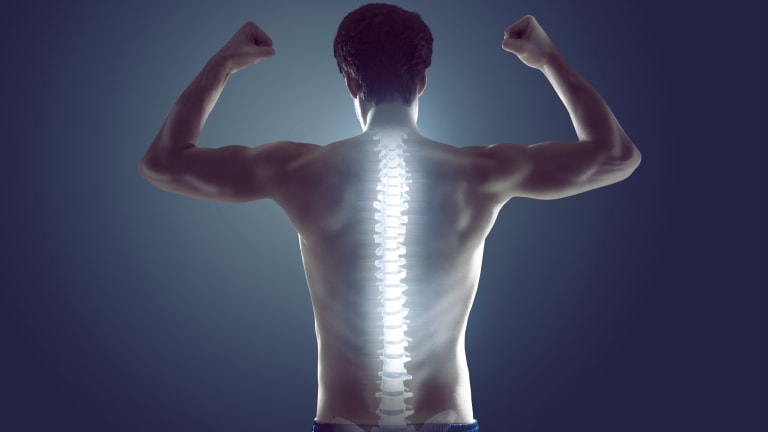 Taltz Improves Arthritis of the Spine Progression
Long-term Ixekizumab (Taltz) reduces/prevents Radiographic Axial Spondyloarthritis Progression
by Dr. David Borenstein, Medically Reviewed by Dr. C.H. Weaver M.D. 04/2022
Ixekizumab (Taltz) is an interleukin -17 a and f inhibitor (Il-17) that is approved for the treatment of AS. Although biologics are approved for the treatment of an illness, questions remain whether the approved drug treats all the components of an illness. Ankylosing spondylitis (AS) is an inflammatory spinal disease which is associated with damage to the axial skeleton including the sacroiliac joints, the lumbar, thoracic, and cervical spine. The progression of the illness results in fusion and calcification of the ligaments surrounding the spine.
In a phase 3 long-term extension study of prior clinical trials COAST-V and COAST W reported on the effect of prolonged Ixekizumab therapy on the radiographic changes in patients with AS. A total of 230 individuals (115 receiving Ixekizumab every 2 weeks and 115 receiving biologic every 4 weeks were the trial participants. At 104 weeks, the participants were evaluated for radiographic progression of AS in the spine. The participants wire 81.7% men with an average disease duration of 15.9 +/- 9.8 years. During the 2-year study period, 89.6% of participants showed no progression of disease from the start of the study. Predictors of structural progression were identified to be those who were 40 years or older, male sex, HLA-B27 positivity, and spine calcifications (syndesmophytes) at baseline. A limitation of the study was the inadequate number of participants to know if prior use of tumor necrosis factor inhibitor impacted a good outcome. Trial subjects who had therapy every 2 weeks tended to have a better outcome than those receiving injections every 4 weeks.
This study demonstrates that Il-17 inhibitors have the potential to stop progression of disease when used over extended periods of time. Other agents will need similar long duration studies to show similar benefits.
References:
Van der Heijde D, et al. Spinal radiographic progression and predictors of progression in patients with radiographic axial spondyloarthritis receiving Ixekizumab over 2 years. J Rheumatol. 2022;49:265-273