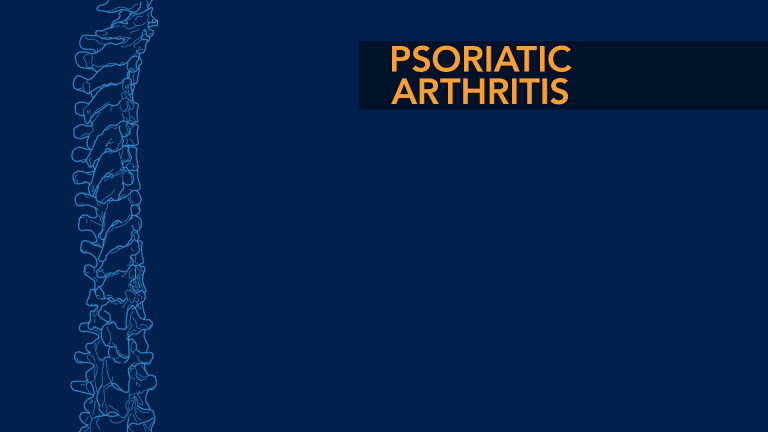 Psoriatic Arthritis - Spondylitis of The Spine
Psoriatic Arthritis - Spondylitis of The Spine: Understand the signs, symptoms and treatment.
Psoriatic Arthritis of The Spine
by MedMaven updated 09/21​
About 1 to 3 % of the population of the United States has psoriasis. Approximately 30% of people with psoriasis have a characteristic pattern of joint disease, psoriatic arthritis. Psoriatic arthritis comes in many forms, one of which affects the spine. Involvement of the spine, psoriatic spondylitis, is found in 5% to 23% of patients with psoriatic arthritis. One of the risks of developing spondylitis is related to a genetic predisposition. This risk is related to the presence of a specific genetic marker, Histocompatibility Leucocyte Antigen (HLA) B27. HLA-B27 positive individuals are more likely to have to have spine disease.
What are the Symptoms of Psoriatic Spondylitis?
The usual patients with psoriatic spondylitis are usually men who have onset of psoriasis late in life. Back pain may involve one, or both sacroiliac joints. Back pain may exist with or without sacroiliac pain. Low back pain is indistinguishable from the pain associated with the other spondyloarthritis. Back pain is worse in the morning, getting out of bed, and is associated with spine stiffness. Spondylitis may affect the low back, chest, and/or the neck. In the cervical spine, limitation of motion is a primary manifestation of neck involvement. The activity of skin and nail disease does not necessarily correlate with joint or spine involvement.
How is Psoriatic Spondylitis Diagnosed?
The diagnosis of psoriatic spondylitis is based upon a spectrum of characteristic findings noted in the history, physical examination, and radiographic findings. Psoriasis may be present prior to, or at the onset of joint disease. Only a minority will have characteristic joint disease before psoriasis. Inflammatory back pain is characterized by the presence of back pain for longer than 3 months , no improvement with rest, improvement with exercise, insidious onset, and pain increased at night. Plain xray films of the lower spine will show definite signs of arthritis in the sacroiliac joints. Radiographs of other portions of the spine may show a spectrum of no additional alterations to full ankylosis of the spine. Laboratory findings of HLA-B27 positivity, and blood test signs of inflammation (elevated C reactive protein or erythrocyte sedimentation rate) are compatible but not specific for psoriatic spondylitis. There are no tests that are specific for the diagnosis of psoriatic arthritis.
How is Psoriatic Spondylitis Treated?
The goals of therapy for psoriatic spondylitis are to control inflammation, decrease pain, maintain function, and prevent deformity with the least in the way of toxicity.
What are Non-drug Therapies for Psoriatic Spondylitis?
Maintenance of motion of the spine is a prime goal of therapy. Physical therapy can facilitate maximizing motion of the spine. Home exercise programs can maintain Improvement in motion developed during physical therapy sessions.
What are Drug Therapies for Psoriatic Spondylitis?
Treatment of psoriatic arthritis is similar to treatment of rheumatoid arthritis when dealing with disease of the peripheral joints. The benefits of these therapies for spinal disease continue as an active topic of research. As in ankylosing spondylitis, NSAIDs decrease spine stiffness and pain. As opposed to AS patients, NSAIDs are not adequate by themselves to control skin and joint disease in the spine.
Disease-Modifying Agents (DMARDs)
DMARDs are drugs that work more slowly than NSAIDs but have the capability of modifying the progression of disease. These drugs may have some benefit for arthritis in arms and legs but are not beneficial for spinal disease. Examples of DMARDs include sulfasalazine, methotrexate, and leflunomide.
Biologic agents including Anti-Tumor Necrosis Factor Inhibitors (TNFi)
The inflammation that causes joint damage is mediated through a variety of cell messengers, cytokines. A number of biologic therapies are available to counteract the effects of these cytokines. A decrease in the production of or removal of a portion of tumor necrosis factor, a cytokine, can result in an improvement in arthritis pain and swelling.
Anti-Tumor Necrosis Factor Inhibitors (TNFi)
ANTI-TNF therapies available for the treatment of psoriatic arthritis include etarnercept, adalimumab, golimumab, certolizumab, and infliximab. Etarnercept (Enbrel) is a soluble receptor for TNF. Etarnercept (50 mg) is injected weekly. Infliximab is a monoclonal antibody, a combination of mouse and human components, directed against TNF. Infliximab (Remicade)is administered intravenously at doses between 3mg/kg to 10 mg/kg at intervals ranging from every 4 to 8 weeks. Adalimumab (Humira) is a fully human anti-TNF monoclonal antibody. Adaimumab (40 mg) is administered by injection every 2 weeks. Golimumab (Simponi) is a fully human anti-TNF antibody. Golimumab (50 mg) is injected monthly. Certolizumab (Cimzia) is an anti-TNF partial antibody. It is connected to polyethylene gycol that prolongs the effect of the antibody. Certolizumab is injected either 200 mg every 2 weeks or 400 mg every 4 weeks.
Anti IL-12 and IL-23 inhibitors
Interleukin 12 and 23 are released in increased amounts in skin of individuals with psoriasis. IL-23 stimulates the production of Th17 lymphocytes that are active in psoriasis and psoriatic arthritis. IL-12 stimulates CD4+ T lymphocytes to become activated facilitating an inflammatory response. Ustekinumab (Stelara) is a human monoclonal antibody directed against a common p40 portion of both IL-12 and 23. The antibody blocks the receptor for IL-12 and 23 preventing activation. Ustekinumab(45 mg) is administered by injection at 4 weeks, and subsequently every 12 weeks.
Anti IL-17 inhibitors
Interleukin-17 is the cytokine released by Th-17 lymphocytes that drives some of the inflammatory response in psoriatic skin. Inhibition of IL-17 has been shown to have beneficial effects on the skin condition. The fully human interleukin 17A antibody, secukinumab ( Cosentyx), is approved for the treatment of severe psoriasis. Clinical trials have demonstrated improvement of psoriatic arthritis with secukinumab. However, use of this biologic for psoriatic arthritis awaits the approval of the Food and Drug Administration. Secukinumab i(two 150 mgs)is injected weekly for 5 weeks, then monthly. Toxicities are similar to those of other biologics including risk of infections and malignancies.
Phosphodiesterases (PDE4) Inhibitors
Phosphodiesterases are enzymes that modify chemicals that are energy sources for cell function. Energy in these pathways results in the production of a number of cell products including those that result in disease inflammation. PDE4 has specificity for cyclic adenosine monophosphate and is found in inflammatory cells like B and T lymphocytes. Apremilast (Otezla) is a PDE4 inhibitor that is effective in controlling the manifestations of psoriasis and psoriatic arthritis. Apremilast is a 30 mg pill taken twice a day. As opposed to biologic agents with increased risk of infections and malignancy, gastrointestinal upset particularly diarrhea is the primary side effect of apremilast.