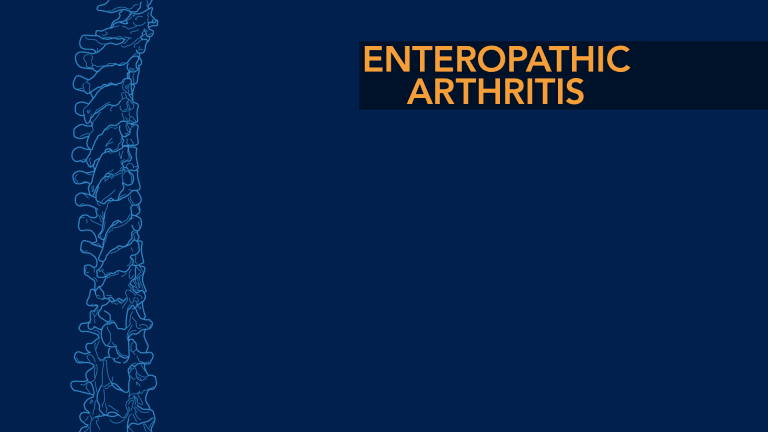 Enteropathic Arthritis
Enteropathic Arthritis: Understand the signs, symptoms, and treatment.
Enteropathic Arthritis
by Dr. David Borenstein M.D. updated 8/2021
Ulcerative colitis and Crohn's disease are inflammatory bowel diseases.  Ulcerative colitis is limited to the colon.  Crohn disease or regional enteritis, may involve any part of the gastrointestinal tract.  Included in the extra-intestinal manifestations of these illnesses is arthritis.  Joint involvement in inflammatory bowel disease includes spine and peripheral joints.  Spine disease is similar to ankylosing spondylitis and follows a course independent of activity of bowel disease.  Sacroiliitis occurs in about 10% and spondylitis in 3%.  Women and men are equally affected.  About 50% of individuals with spondylitis are HLA-B27 positive.
What are the Symptoms of Enteropathic Spondylitis?
In about 33% of patients, spine disease will occur prior to the onset of bowel disease with a delay as long as 20 years.  Patients with complain of aching low back pain and stiffness that is maximal in the morning.  Neck disease occurs more frequently in women who have had disease for an extended period of time.
How is Enteropathic Spondylitis Diagnosed?
Early symptoms of inflammatory bowel disease are gastrointestinal changes involving abdominal pain, weight loss, and change in bowel habits.  In these individuals, the diagnosis of Enteropathic arthritis is self-evident.  More difficult is the diagnosis of Enteropathic spondylitis when back symptoms predate the onset of bowel disease.  The lower frequency of HLA-B27 may help differentiate enteropathic arthritis from ankylosing spondylitis.
How is Enteropathic Spondylitis Treated?
Therapy for Enteropathic spondylitis is similar to that for classic ankylosing spondylitis.  Control of bowel disease does not necessarily correlate with improvement in spine symptoms.  Individuals with bowel disease and peripheral arthritis may respond to non-biologic therapies.  These therapies include azathioprine, mercaptopurine, methotrexate, cyclosporine, or mycophenalate mofetil.
Biologic therapies used for inflammatory bowel disease may also be effective for inflammatory spine disease.  These include infliximab, adalimumab, golimumab, and certolizumab.  Etanercept is not indicated for the treatment of inflammatory bowel disease and associated spine disease.