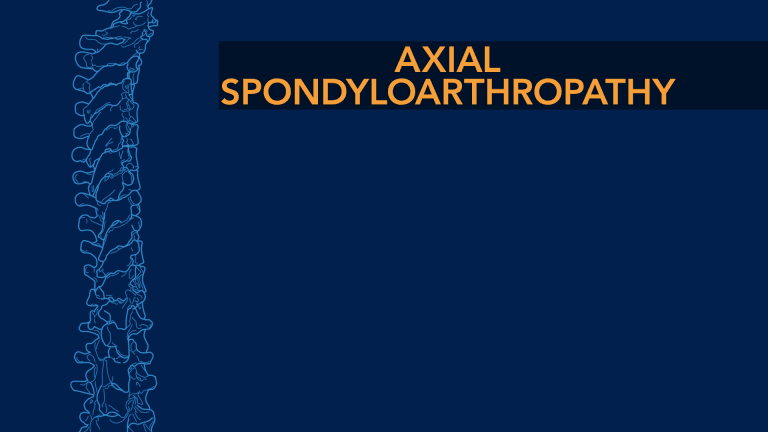 Axial Spondyloarthropathy (axSpA)
Axial Spondyloarthropathy (axSpA): understand the signs, symptoms and treatment.
by Dr. David Borenstein M.D. updated 09/21​
Inflammatory spinal disease is composed of a spectrum of clinical complaints, physical limitations, laboratory variances, and radiographic findings affecting all or specific parts of the axial skeleton. The classic disorder associated with this constellation of abnormalities is ankylosing spondylitis (AS).
The diagnosis of AS is based upon the history, physical examination, and radiographic findings. Inflammatory back pain is characterized by the presence of back pain for longer than 3 months in association with an age of onset before 40 years, no improvement with rest, improvement with exercise, insidious onset, and pain increased at night. Plain x-ray films of the lower spine will show definite signs of arthritis in the sacroiliac joints. Laboratory findings of HLA-B27 positivity, and blood test signs of inflammation (elevated C reactive protein or erythrocyte sedimentation rate) are compatible but not specific for a diagnosis of AS.
However, a number of individuals have clinical symptoms of inflammatory back pain and are HLA-B27 positive, but do not demonstrate definitive x-ray alterations in the sacroiliac joints. These individuals do not meet criteria for AS but do have an inflammatory arthritis of the spine. Axial spondyloarthropathy (axSpA) is proposed as the term to include these patients in the pre-radiographic as well as the radiographic phase of AS.
In 2009, the Assessment of SpondyloArthritis international Society (ASAS) proposed classification criteria for axial spondyloarthritis, which identified the spectrum of individuals with inflammatory spine disease. (1)
Patients with Back Pain > 3 months and Age at Onset < 45 years
And
Sacroiliitis on Imaging + 1 or more features of Spondyloarthropathy
OR
HLA-B27 + 2 or more features of Spondyloarthropathy
Features of Spondyloarthropathy
Inflammatory back pain
Arthritis
Enthesitis (heel)
Uveitis
Dactylitis
Psoriasis
Crohn's disease/ulcerative colitis
Family history of Spondyloarthropathy
HLA-B27
Elevated C Reactive Protein (CRP)
According to these criteria, axSpA and AS share a number of clinical and laboratory characteristics including strong association with HLA-B27, the absence of rheumatoid factor and inflammatory back pain. One of the very important remaining questions concerning these entities is whether axSpA is non-radiographic OR pre-radiographic AS. The relationship between non-radiographic axSpA (nr-axSpA) and AS remains to be determined although these disorders share a number of common characteristics. For example, nr-axSpA is more common among women than men where AS is more common in men.
The results of a prospective study of 83 nr-axSpA patients suggest that the majority of individuals with nr-axSpA will never develop structural damage in the sacroiliac joints, however 26% did progress to develop classic AS. (2) The conclusion of another study proposed that the classification criteria for nr-axSpA identifies patients who will not progress to AS or a group with a prolonged prodromal state that takes longer than 15 years to evolve into AS. (3) Other studies have identified those characteristics more likely associated with progression including men, with elevated CRP or ESR, with MRI findings of sacroiliitis. (4)
How Should axSpA be Treated?
A discussion of effective therapy for axSpA is complex, and choices for individual patients unfortunately are not straight forward. The benefit of any therapy must be balanced against the potential risks or side effects of that therapy. A patient should not be exposed to a therapy if minimal benefit for the condition is possible. The benefit of NSAIDs and biologic therapy for individuals with AS are well documented in clinical trials. The benefits for individuals with nr-axSpA are not as well determined. Only a small number of patients with nr-axSpA progress to AS over a 2 year period. Those nr-axSpA patients with findings of increased inflammatory activity (elevated ESR, CRP) are the individuals who have a greater chance of progressing and having a beneficial response to biologic therapies. (5)
Learn More About The Treatment of axSpA and Ankylosing Spondylitis
Although aggressive therapy for individuals with axSpA who will progress to AS makes clinical sense, predictive factors that could help determine which individuals with axSpA might benefit from therapy are not that useful. Increased recognition of axSpA has led to the design of clinical studies to better identify predictive factors. Currently, the decision to receive biologic therapy for nr-axSpA is individualized between each patient and their physician.
References:
Rudwaleit M et al. Ann Rheum Dis 2009;68:777-783.
Rudwaleit M, van der Heijde D, Landewe R et a. The development of Assessment of SpondyloArthritis international Society classification criteria for axial spondyloarthritis (partII): validation and final selection. Ann Rheum Dis 2009;68:777-783.
Wang R, Gabriel SE, Ward MM. Progression of nonradiographic axial spondyloarthritis to ankylosing spondylitis: A population-based cohrt study. Arthritis Rheumatol 2016;68:1415-1421
Poddubnyy D, SieperJ. Radiographic progression in ankylosing spondtlitis/axial spondyloarthritis: how fast and how clinically meaningful? Curr Opin Rheumatol 2012;24:363-369
Callhoff J, Sieper J, Weib A, Zink A, Listing J. Efficacy of TNF alpha blockers in patients with ankylosing spondylitis and non-radiographic axial spondyloarthritis: a meta-analysis. Ann Rheum Dis 2015;741241-1248